Create your own paradise in your garden. Extend your living space by adding a Summer house, Gazebo or day room. So many uses, a studio for homework, a computer room for surfing or playing games. A home gym for your fitness and well being or just for the pure enjoyment of viewing your garden from a different perspective in the warmth and comfort of your extended living space. Sit back and ENJOY. NOW ON SPECIAL OFFER.
---
Would you like to swim more often and extend your swimming season?
Well you can do just that. Whether it's an Above ground, In-ground pool or portable Spa there is a Dome or Enclosure to suit.
Fabrico Sun Dome - With an aluminium pole frame that attaches to the top cap of the pool, they are very easy to install. The Clear vinyl Cover pulls over the frame and is tightened by hooks attached to the uprights. With zip door and window sections you can enjoy swimming even when the weather is poor.

Plastica Air Dome - The Air fan inflates the UV stabilised PVC Dome. The Dome extends right over the pool. Two models of Air Dome are available, the popular cable type, and the waterbag system (suitable for sheltered pool sites only)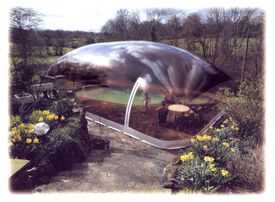 IPC Enclosures - A huge choice of designs available, high or low , large or small. The rail system secures the enclosure to the ground but also allows for sections to be pushed back for open air swimming.
A superb range of swimming pool enclosures. Manufactured in the Czech Republic by IPC to the highest specifications they can be opened by one person with ease. The telescopic, polycarbonate segments unlock and slide with ease on the low profile rail system that can be set into existing patio surrounds.