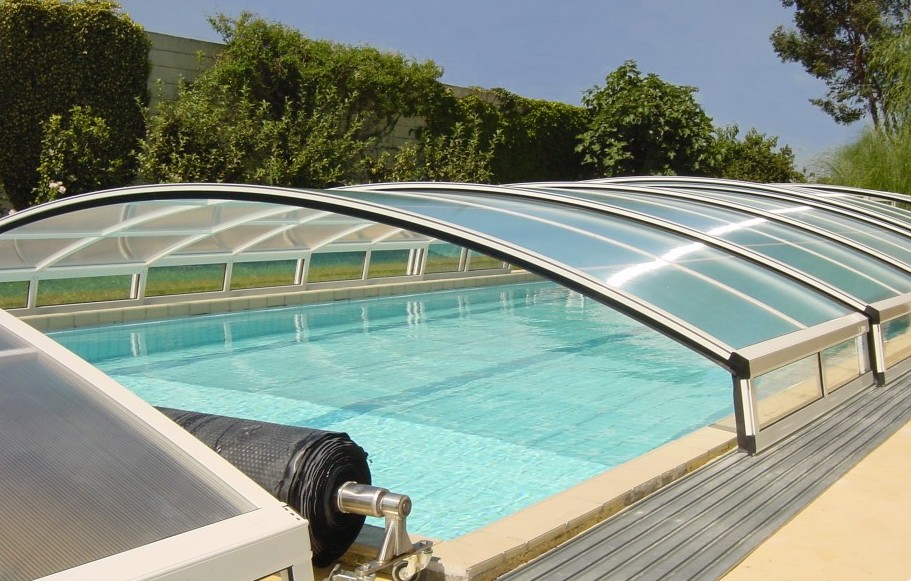 IPC Imperia Enclosure
A low profile swimming pool enclosure that will blend beautifully into any setting.
Full Description
The Imperia Neo Light telescopic swimming pool enclosure is a stunning structure that will fit perfectly into your garden. You can freely and easily swim in the pool if the cover is closed. The Imperia Enclosure is a combination of sharp and rounded-off shapes (arch and vertical sides).
POA - Dolphin Sales team 08451 303067
Technical parameters
Width of enclosure:2,50 – 6,25 m
Length of enclosure:4,20 – 14,90 m
Height of enclosure:0,60 – 1,30 m
Number of segments:3 - 7
Profile surfacing:

Silver
RAL 9006
White
RAL 9010
Beige
RAL 1015
Anthracite
DB 703
Brown
antique
Rounded-off segments.
Polycarbonate:

twin-wall, clear, 10 mm, NO DROP, one side UV protection, U = 3,1 W/m2K
twin-wall, clear, 8 mm, NO DROP, one side UV protection, U=3,3 W/m² K
compact, transparent, 4 mm, both sides UV protection, U = 5,4 W/m² K
Guide rails:

guide rails in the length of an enclosure

COMFORT - height 15 mm, surfacing color - natural elox or beige RAL 1015

 
Faces inner, fixed made from polycarbonate and aluminium profiles
1 door according to the client´s request
AIR FRESHTM system – lift up draft seal on both faces, (lift up draft seal can´t be used in a case of door without sill), 2 segments locked in the position of open AIR FRESHTM system
Automatic locking system COMFORT including safety locking of an enclosureFORTIS, INNOX or ARX