Dolphin Leisure are proud to offer the widest choice of quality above ground pools available anywhere in the UK today.
We are able to support you at every stage with unique experience gained over more than 30 years with every major type of pool. Based on our experience and our customers' feedback, our range has been carefully selected for quality, appearance, value for money and, most importantly, ease of DIY installation.
Other than pools constructed using wood (check out our fantastic timber range), there are two types of above ground pools (48" and deeper) in our distinctive selection
Steel above ground pools - Good quality entry level pools, all from major brand name manufacturers. Steel pools are the original type of above ground pools introduced to this country over 40 years ago. Parts are usually galvanised with multi-treatment coatings to help protect them from corrosion. Uprights and top rails are mainly cosmetic features and have very little structural integrity.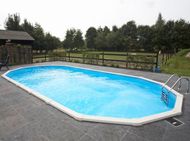 Aluminium above ground pools - The best. Stronger than steel and corrosion free, aluminium pools offer complete peace of mind. When it has to be an above ground pool but still has to look stunning - the Classic is the pool that stands head and shoulders above the rest.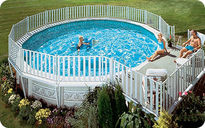 Fibreglass Swimming Pools
 Swimming pools are for everyone, and the shell can cost as little as a medium sized car. Swimming pools are also an ideal form of exercise and will offer endless fun for the family.
Even the smaller fibreglass swimming pools, when fitted with a counter current unit, can provide excellent exercise opportunities, helping to create a healthy lifestyle and fitness level.

A heated pool provides year round leisure opportunities for entertainment at home and glassfibre is a good material for economically sustainable heat retention.

Why a fibreglass swimming pool?

- Pools are quick and simple to install
- Quality Fibreglass pools can last a lifetime. Many shells are manufacturer guaranteed for 10 years or more.
- Fibreglass pools require fewer chemicals than concrete pools
- Pools require little maintenance
- Fibreglass is a smooth finish
- GRP (glass reinforced plastic) has surprising strength and durability
- Non-slip surface on floor and step areas.